TASA implemented a business plan to manage Turneffe Atoll Marine Reserve utilizing a blended finance modality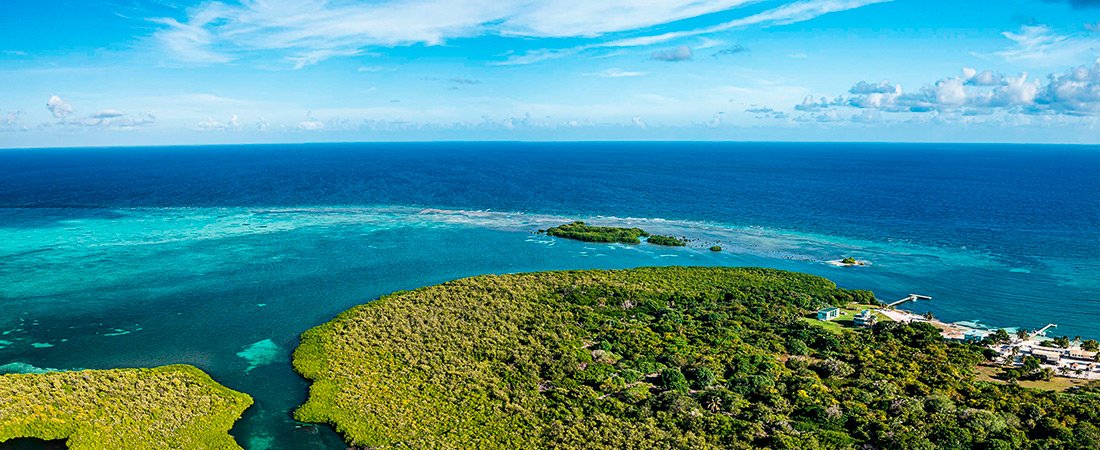 Aerial Calabash Caye. Photo: TASA
The COVID-19 health crisis took people by surprise and caused impacts not only to health and ecology, but also to the economy. Despite the challenges posed by this situation, many organizations have come out ahead, as is the case of the Turneffe Atoll Sustainability Association (TASA), co-manager of the Turneffe Atoll Marine Reserve (TAMR).
During 2020 – 2021, TASA developed a business plan to support the effective management of TMAR, which boasts 148,980 hectares of marine managed space within the Mesoamerican reef in Belize.
MAR Fund contributed with funding for this plan through the Belize Marine Fund and the Marine Protected Areas (MPA) Emergency Funds Project that was implemented with CORAL Reef Alliance. The business plan was developed by TASA and Blue Finance and emphasizes on securing predictable sources of unrestricted funds to manage the reserve.
As indicated by Valdemar Andrade, Executive Director of TASA, oftentimes marine protected areas rely on short-term grants, which do not always secure long-term sustainability of an area's conservation actions and the teams that drive the programs. With this plan, TASA secured the first-of-a-kind impact investment in the region from Althelia/MIROVA and the Sustainable Ocean Fund. By focusing on generating predictable, unrestricted funds, TASA is gaining financial autonomy to successfully manage the atoll long-term.
TASA's strategy has allowed them to focus on creating an MPA business development team, developing tourism infrastructure, structuring a Blue Talks program to be delivered at the resorts in Turneffe, designing a citizen science program, purchasing equipment to work with the fishing community, and much more. "My vision is to make the reserve a model marine reserve for Belize, where users take an active role in the management and decision-making of the reserve based on information received from stakeholders and science," says Andrade.
Calabash Caye Observatory Tower. Photo: TASA
Tags:
Althelia/MIROVA
,
Belize Marine Fund (BMF)
,
Coral Reef Alliance (CORAL)
,
Marine Protected Areas (MPA)
,
Sustainable Ocean Fund
,
Turneffe Atoll Marine Reserve (TAMR)
,
Turneffe Atoll Sustainability Association (TASA)