Caye Bokel on Turneffe, Belize's newest dive rest-stop
Newly constructed pier. Photo: TASA
By Joseph Villafranco
Thanks to the Mesoamerican Reef Fund's Belize Marine Fund, the Turneffe Atoll Sustainability Association (TASA), as the official co-manager of Turneffe Atoll Marine Reserve (TAMR) has raised the bar for piloting activities towards sustainable conservation financing for this site.
TASA has accomplished such an achievement by creating an attractive solution and space for divers and other visitors at 'The Elbow' (dive site at Caye Bokel Conservation Zone) to relax, prepare a hot meal, learn about the marine reserve from rangers, use restrooms, and pick up a souvenir while resting between dives or just visiting.
The newly built pier extends 80ft to accommodate larger dive vessels and the new restrooms and shower are fitted with state-of-the-art tertiary-level waste treatment to ensure zero pollution.
Tour operators and dive guides as well as other visitors, and fishers are welcomed to use the facilities and talk to the rangers while visiting or resting. Approximately six to eight tour operators and their employees (approximately 100) are benefitting directly from this project through dive operations. Indirectly, over 100 fishers are benefitting from TASA's ranger presence in the area to protect the fish replenishment zones from illegal fishing.
Old pier at Caye Bokel. Photo: TASA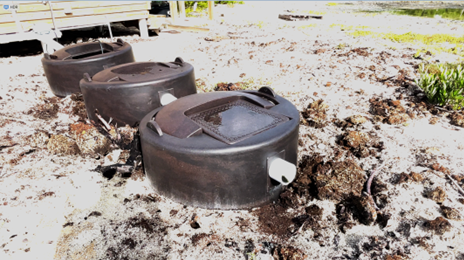 Tertiary-level wastewater treatment. Photo: TASA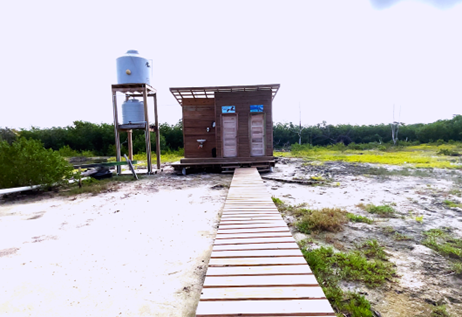 New bathroom and shower with boardwalk. Photo: TASA
Tags:
Belize Marine Fund (BMF)
,
Caye Bokel
,
Caye Bokel Conservation Zone
,
Mesoamerican Reef Fund's
,
Turneffe Atoll Marine Reserve (TAMR)
,
Turneffe Atoll Sustainability Association (TASA)