Leading by example: Sustainable Tourism Development in Corozal Bay Wildlife Sanctuary, a role model for Belize!
Aerial view of the wildlife sanctuary in Belize. Photo: SACD
By Mr. Samuel Barrett, SACD
For more than a decade, we at Sarteneja Alliance for Conservation and Development (SACD) have been working to develop sustainable community tourism in Sarteneja, first, through the development of alternative livelihood initiatives such as the "Sarteneja Homestay Project" and the "Pescatours initiative" (a unique traditional fishing experience), and later through the establishment of our Business Arm (SACD Green Ltd.) and Tour Operator (Corozal Bay EcoAdventures (CBEA)) to support protected area management in Corozal Bay Wildlife Sanctuary (CBWS).
The journey has been long, the road often rocky, and more than a few challenges encountered along the way – a global pandemic to name but one! But after many years of fruition our dream of sustainable tourism in Sarteneja is beginning to become a reality.
The investment secured from MAR Fund's 14th Small Grants Program Joint RfP under the Belize Marine Fund (BMF) window through the project entitled "Increasing Financial Sustainability and Generating Income Diversification Opportunities for the Improved Management Effectiveness of Corozal Bay Wildlife Sanctuary" has been essential in the creation of our "Tourism Expedition Hosting Facility". This facility is vital to support expedition hosting of tourism groups, but it's grander purpose runs so much deeper than merely that – it is yet another bid to promote sustainable development alternatives but this time by leading from the front!
Furthermore, this project has come at a critical moment to guide development in northern Belize. The road that joins Sarteneja Village to Corozal Town is being upgraded to a highway with the inclusion of two bridges which will facilitate access, development and tourism visitation to the area. The upgraded highway is welcomed by many, if not all, of our stakeholders and will yield significant benefits for three of our five stakeholder communities surrounding CBWS.  However, with improved infrastructure comes development that, despite our best efforts to promote sustainability, continues to follow the unsustainable trends experienced throughout Belize, the Placencia Peninsula being a prime example of what we are desperate to avoid in northern Belize. And with the construction of the "Tourism Expedition Hosting Facility", we are setting an important precedent for others to follow!
The installation of a modern hydrostatic septic and grey-water recycling system has been critical to avoid contamination of Corozal Bay through toxic leachate from traditional septic systems; a system that should be adopted by the many hotels and resorts that are popping up along the coastline of CBWS. Equally, by choosing to leave 100% of the mangroves on the shoreline (while also achieving "beach" access!) and as much vegetation as was physically possible on the property, we have modeled an alternative to the "slash and burn" techniques that can be seen in the many new developments up and down the coasts of Corozal Bay and Belize.
"Beach access" to the wildlife sanctuary at SACD's Tourism Expedition Hosting Facility at Waree Bight, Belize. Photo: SACD
But the development of facilities and infrastructure alone will never be enough – the whole community must be ready to join us in this adventure and share in the benefits and successes a realized vision will bring! That's why this project also prioritized building stakeholder capacity across the community, from tourism service providers, accommodations, venders, and restaurants, with over 50 stakeholders receiving 10 different trainings to prepare Sarteneja for the predicted increase in visitation over the next five years.
We and our stakeholder communities wholeheartedly thank the BMF for joining us on our adventure that would never have been possible without your support as one of our many funders who have joined us along the way!
So, here's to us, to you, and to the many new and exciting adventures to come – ¡Salud! (Cheers!)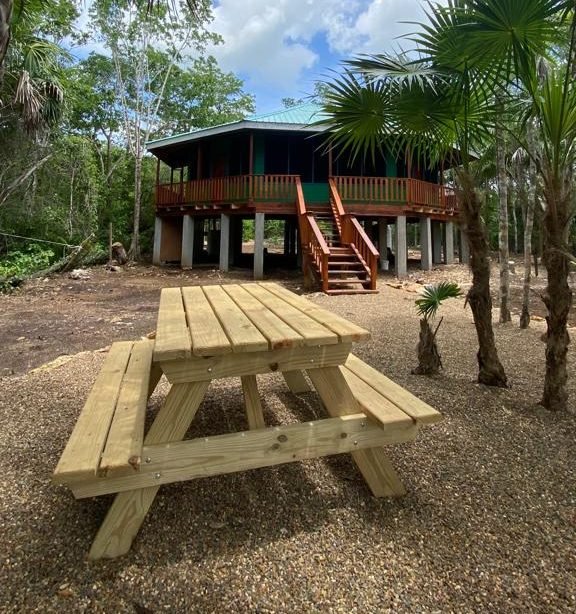 SACD's Tourism Expedition Hosting Facility at Waree Bight!
Photo: Mr. Ismael Teul / Conservation Investment Manager – PACT

Participants and trainers during the two-day training programme led by BELTRAIDE in Sarteneja that targeted tourism stakeholders and community groups across the community.
Photo: Mr. Ivandi Perez / SACD Communication Officer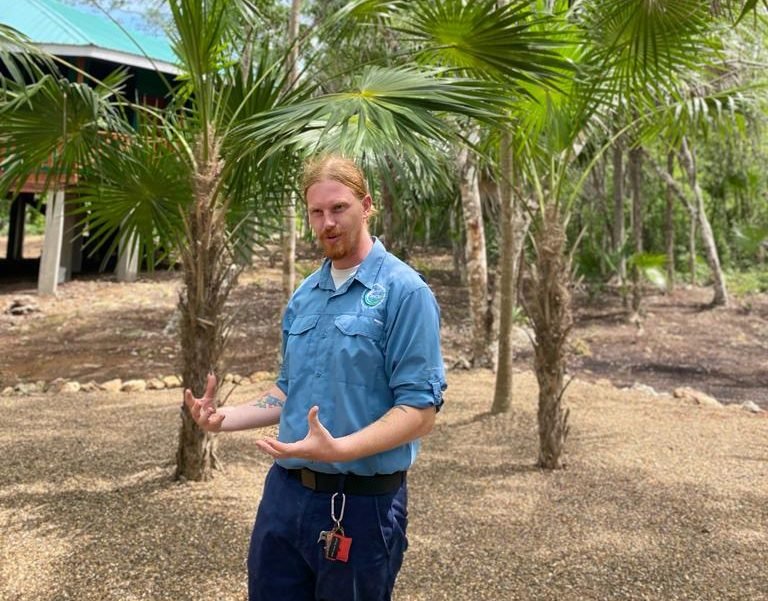 Mr. Samuel Barrett, SACD Development Manager (and Project Manager for this project), giving a site-visit of the tourism facility at Waree Bight to representatives of the Protected Areas Conservation Trust (PACT), a major co-financing partner for the construction of the facility.
Photo: Mr. Ismael Teul / Conservation Investment Manager – PACT

The Hydrostatic septic system installed at the tourism facility at Waree Bight. This is a critical piece of the sustainable utility infrastructure installed on site to prevent toxic leachate impacting Corozal Bay Wildlife Sanctuary (CBWS) and is the 'gold standard' for waste-water treatment available in Belize!
Photo: Mr. Jomayel Verde / SACD Vessel Captain

Tags:
Belize Marine Fund (BMF)
,
Business Arm (SACD Green Ltd.)
,
Corozal Bay EcoAdventures (CBEA)
,
Corozal Bay Wildlife Sanctuary
,
Corozal Bay Wildlife Sanctuary (CBWS)
,
Pescatours initiative
,
Sarteneja
,
Sarteneja Alliance for Conservation and Development SACD
,
Sarteneja Homestay Project
,
Sustainable Tourism Development