The Mesoamerican Reef is a system of interconnected and interacting marine ecosystems arching through the territorial waters of Belize, Guatemala, Honduras, and Mexico. As the second largest reef system in the world, it is the backbone ecosystem for the Mesoamerican eco-region, critical to the ecological and economic health of the entire Southern Atlantic area.
It is not only a source for countless marine resources and ecological services, it is also the life support system for the region. Quite simply, if the Mesoamerican Reef is not healthy and thriving, the region and its millions of people will not be healthy or thriving either.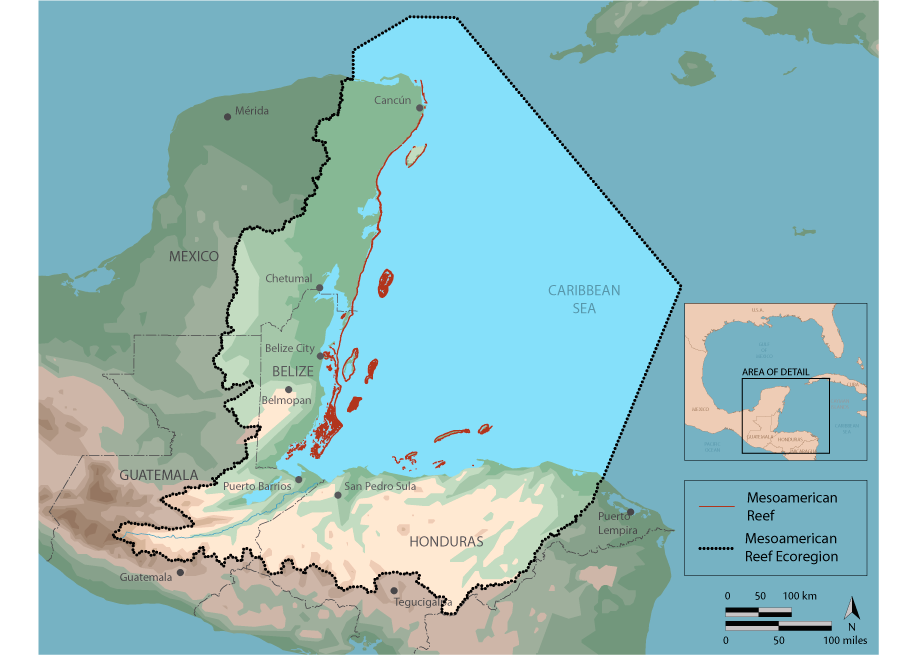 Why is the MAR Critical to Global Ecosystems
No matter where you live, your life depends on Oceans. Reefs, like the Mesoamerican Reef system, are the backbones of the bio-diversity and the ecological systems that sustain the Oceans, and through those services, support all life on earth. The Mesoamerican reef is a nursery, genetic library, protector of the land, creator of sand and provider of economic well being and human health for both the MAR eco-region and the world. Preserving the MAR preserves our own life support system. An ecologically and economically thriving MAR serves everyone.
What Eco-Services Does it Provide?
For most, the Mesoamerican Reef is a place of aesthetic beauty and relaxation attracting tourists from around the globe. However, that economic contribution is just the beginning of the invaluable goods and services the MAR provides to the region and to the world. It protects thousands of miles of shorelines from the destructive force of currents, storms and waves while also building land mass and delivering the finest beach sand for our pleasure. It is the nursery, breeding, and feeding ground for an amazing diversity of organisms; a genetic library and history book holding the critical ecological information from the past so crucial to our current decision-making. The life it supports also supports the economic life of the entire four- country region. On a global scale, the MAR is a massive nitrogen fixer, a carbon dioxide sink, and a detoxifier of water and air. Its architecture of calcium carbonate forms a backbone for the diversity of life for the region and for the world.