MAR Fund presentó el seguro paramétrico para arrecifes en
La Semana del Clima de América Latina y el Caribe 2023
Corales del Arrecife Mesoamericano. Foto: Ana Beatriz Rivas/MAR Fund
La Semana del Clima de América Latina y el Caribe (LACCW por sus siglas en inglés), se llevó a cabo del 23 al 27 de octubre de 2023, en la ciudad de Panamá.
El evento tuvo como objetivo proporcionar una plataforma para que políticos, profesionales, empresas y la sociedad civil intercambiaran información sobre las problemáticas climáticas actuales y sus posibles soluciones, así como las oportunidades que existen en la región.
La Semana del Clima se basó en cuatro áreas temáticas, con el propósito de obtener contribuciones regionales por parte de los presentadores y que sirvan de base para el balance mundial que concluirá en la Conferencia de las Naciones Unidas sobre el Cambio Climático (COP28) a finales de este 2023: Sistemas energéticos e industria; Ciudades, asentamientos urbanos y rurales, infraestructuras y transportes; Tierras, océanos, alimentos y agua; Sociedades, salud, medios de subsistencia y economías.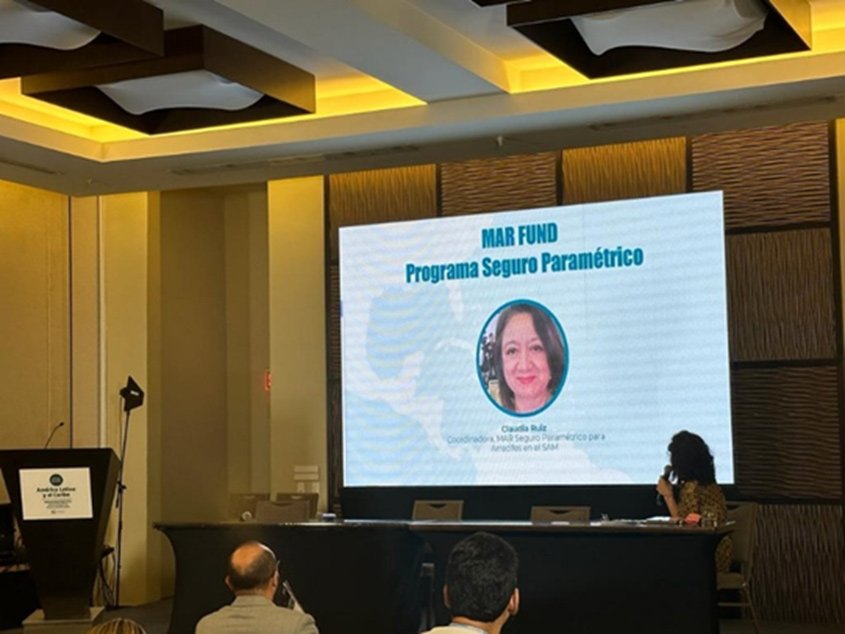 Colecta de Dendrogyra cylindrus en Cozumel por parte del equipo de CRIAP-INAPESCA-
Foto: Claudia Padilla
En el evento paralelo de "Innovative Finance Solutions for Oceans & Coastal Community Resilience in the Latin America & the Caribbean", Claudia Ruiz, Coordinadora de la Iniciativa de Rescate de Arrecifes de MAR Fund presentó virtualmente el Seguro Paramétrico para la atención al riesgo de huracanes – Un mecanismo financiero para la conservación de arrecifes en la región del Sistema Arrcifal Mesoamericano (SAM). Este evento paralelo lo organizó Global Fund for Coral Reefs en colaboración con MAR Fund, Acari LLC, Ocean Risk Alliance y Race to Resilience.
El objetivo de la sesión fue destacar las soluciones de las partes interesadas en acelerar la protección de los océanos e incrementar la resiliencia de las comunidades, mostrando esfuerzos clave en toda la región.  Participaron: Daniela Lerario, Directora América Latina – Climate Champions; Christopher Corbin, Oficial de Programa- Secretaría de la Convención de Cartagena; Oscar Orrego, Coordinador de Conservación – Fondo Acción; Nara Vargas, Ejecutiva Principal Dirección de Asesoramiento Técnico en Biodiversidad y Clima – Banco de Desarrollo de América Latina CAF; Timothy Rann – CIFAR ALLIANCE y Mike Mitchell, CEO de Acari LLC
Tags:
Acari LLC
,
Biodiversidad y Clima – Banco de Desarrollo de América Latina CAF
,
CIFAR ALLIANCE
,
Climate Champions
,
Conferencia de las Naciones Unidas sobre el Cambio Climático (COP28)
,
Coordinador de Conservación
,
Coordinadora de la Iniciativa de Rescate de Arrecifes
,
Fondo Acción
,
Global Fund for Coral Reefs
,
Innovative Finance Solutions for Oceans & Coastal Community Resilience in the Latin America & the Caribbean
,
Ocean Risk Alliance
,
Race to Resilience
,
Secretaría de la Convención de Cartagena
,
Seguro Paramétrico para la atención al riesgo de huracanes
,
Semana del Clima de América Latina y el Caribe (LACCW)
,
Sistema Arrcifal Mesoamericano (SAM)