MAR+Invest Acceleration Programme Launch Event
During the MAR+Invest Acceleration Programme Launch Event, organized by New Ventures and the Mesoamerican Reef Fund (MAR Fund), the eight projects comprising the program's first cohort were introduced, these projects promote the protection and rehabilitation of the Mesoamerican Reef (MAR) through innovative and technological market solutions.
The event took place on June 6th at Hotel B Unique in Cozumel, Mexico, where Mr. Jon Benjamin, the British Ambassador to Mexico, offered a video message for the participants. He congratulated the entrepreneurs for their commitment to the health of the MAR and stressed the positive impact they can generate in this ecosystem and its reef-dependent communities with their innovations and market initiatives. The British Embassy in Mexico has been a key collaborator of MAR+Invest through a UK Tactical Fund grant, to promote the MAR+Invest initiative and attract British enterprises and solutions to the MAR.
Yabanex Batista, Deputy Head of the UN Global Team for the Global Fund for Coral Reefs (GFCR), which funds the initiative, also joined the event. He introduced the work of the GFCR around the world, congratulated the selected entrepreneurs to receive support from MAR+Invest, and actively participated in workshops conducted by the New Ventures team and the Healthy Reefs for Healthy People Initiative (HRI).
He also took the opportunity to visit a few of MAR+Invest's projects in Puerto Morelos, including a king crab mariculture initiative in Centro Regional de Investigación Acuícola y Pesquera (CRIAP) to address fleshy macroalgae growth in the MAR. He visited a sargassum processing plant, which is working to reduce this growing threat to the MAR ecosystems. Yabanex was also invited by the Comisión Nacional de Áreas Naturales Protegidas (CONANP) to visit the Puerto Morelos National Park, where he viewed coral reef restoration sites.
Representatives from key and partner organisations such as Sureste Sostenible, HRI, VIWALA, Coral Reef Alliance, COPARMEX, and The Seas We Love Initiative were present at the launch.
The event provided a great platform for the selected entrepreneurs to connect with strategic allies, who share their passion and work for making a positive impact in the MAR through market-based initiatives.
Graciela Suárez, Director of MAR+Invest at New Ventures, introduces the selected entrepreneurs during the launch event of the MAR+Invest Acceleration Programme.
Photo: Moisés Jiménez
Yabanex Batista presents the global work of GFCR to the selected entrepreneurs.
Photo: Antonio Gutiérrez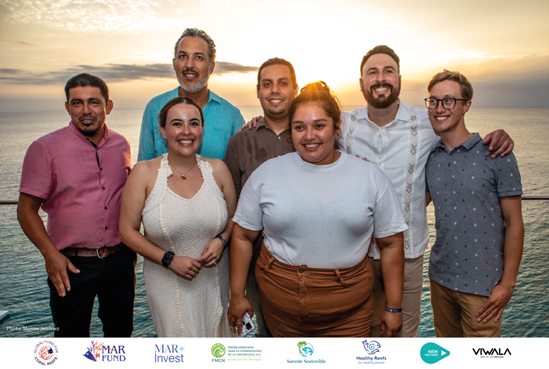 Selected entrepreneurs who attended the MAR+Invest Acceleration Programme Launch Event.
Photo: Moisés Jiménez
Tags:
British Embassy in Mexico
,
Centro Regional de Investigación Acuícola y Pesquera (CRIAP)
,
Comisión Nacional de Áreas Naturales Protegidas (CONANP)
,
Coral Reef Alliance
,
Global Fund for Coral Reefs (GFCR)
,
Healthy Reefs for Healthy People Initiative (HRI)
,
HRI
,
MAR+Invest
,
MAR+Invest Acceleration Programme
,
Mesoamerican Reef Fund (MAR Fund)
,
New Ventures
,
Sureste Sostenible
,
The Seas We Love Initiative
,
UK Tactical Fund
,
Viwala