Introduction
After combined efforts to preserve the Mesoamerican Reef, and taking advantage of the 10th anniversary of MAR Fund foundation, it is necessary to feedback the coastal and marine protected areas, their administrators, partners, local communities and actors and sectors at different levels of intervention in the region, a visible picture of the work accomplished thanks to their cooperation and effort. That is why MAR Fund will host a number of commemorative events highlighting the work carried out and the impacts made by each of the strategic actions implemented during this period.
This celebration includes a series of events at national and local level to involve partners and beneficiaries in activities meant to remind us that cooperation on tasks makes work easier and can make a greater contribution to the reef's health and the human lives that depend on it.
During 2015 it has been considered celebrate the 10th anniversary of MAR Fund, so the planning actions have already begun to develop each event approved by MAR Fund Board of Directors in May 2015.
A Mayan ceremony was held in alliance with CICA (Consejo Indígena Centroamericano) and CIMA (Consejo Indígena Mesoamericano) and the Sotz'il Association to thank Mother Nature for the natural and cultural resources that sustain human life.
For the celebration and ceremony, a place with a special significance was chosen, and the idea was to spiritually connect many people with the reef around the Sacred Fire or Ceremonial Fire.
The Ceremony took place on May 1st., 2015 at Punta de Palma, Puerto Barrios, Izabal, Guatemala. At least 70 participants from different countries in the region attended the ceremony.
---
A lithograph of a species that represents the four countries in the region was designed and printed: a parrot fish.
The parrot fish is a symbolic species, very important for sustaining the reefs' life. Its presence indicates positive milestones in the management of marine and coastal resources, which necessarily involve the effort of the different participants and sectors.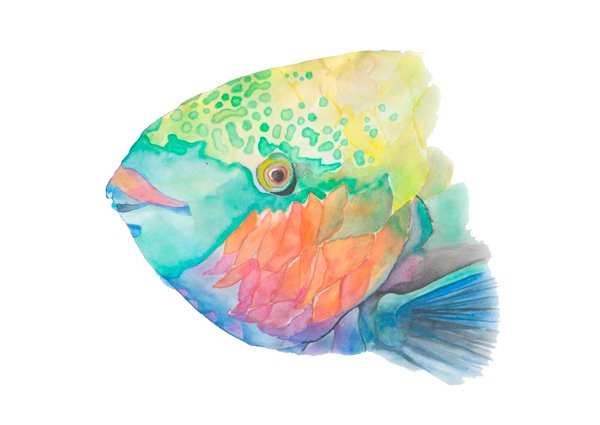 In the context of the XXIV Ordinary Meeting of the Board of Directors of MAR Fund held in the City of Guatemala on May 15, 2015, they seized the opportunity to share with friends and partners in the preservation of the Mesoamerican Reef System (MAR), MAR Fund's ten years of work in Mexico, Belize, Guatemala, and Honduras.
The members of the Board of Directors and the staff from the coordinating office in Guatemala were recognized for their commitment and work philosophy
Etiquetas:
Mayan Ceremony
,
Ten Anniversary
,
Water Color