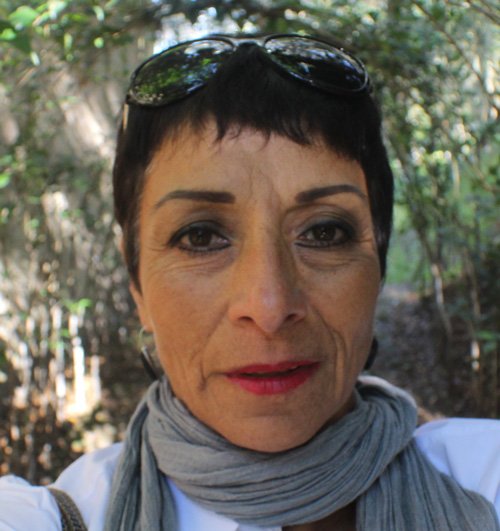 María del Carmen García Rivas
Focal Point of Mexico
Isla Contoy National Parks and Puerto Morelos Reef  Director

---
Biologist graduated from the faculty of Sciences, National Autonomous University of Mexico and postgraduate in Resource Management and Sustainable Development from the Colegio de la Frontera Sur. Three-star FMAS diving instructor and cave diver. Researcher in marine mammals for more than ten years. In 1996, she joined the National Commission of Protected Natural Areas -CONANP- (acronym in Spanish), in marine reef areas. She was director of the Banco Chinchorro Biosphere Reserve, Arrecifes de Xcalak National Park, Tiburón Ballena Biosphere Reserve. Currently, she is director of Isla Contoy National Parks and Puerto Morelos Reef. Her work has focused on stopping poaching and environmental illicit WITH ZERO TOLERANCE, promoting sustainable tourism through alliances with driver guides, fishermen, academics and hoteliers, integrating users into monitoring, restoration, environmental education and pest control campaigns and reef surveillance. In 2015 She involved in the management and control of sargassum, coastal erosion and in 2018 she detected the white syndrome in the corals of the Mexican Caribbean, promoting a management strategy.
María José González
Executive Director
Mesoamerican Reef Fund
---
She is a biologist from the Del Valle University of Guatemala with a Master's degree in Wildlife Management. She was advisor to the National Council for Protected Areas -CONAP- (acronym in Spanish) where she worked on several wildlife regulation processes, such as the design of the hunting law, system and calendar and the first Red Lists for vertebrates in Guatemala. After CONAP, she worked as Executive Director of the Fundación Interamericana de Investigación Tropical -FIIT-. During both her time at CONAP and FIIT, she was also a research fellow for Wildlife Conservation Society -WCS- specifically for the Vertebrate Ecology Project in Tikal National Park. From 1996 to 2004, she was the Executive Director of the Fundación para la Conservación de los Recursos Naturales y Ambiente en Guatemala -FCG-. During her tenure, the FCG expanded from the initial small grants program to include a successful credit program and administration services for other projects. She also participated in the design and establishment of the Latin American and Caribbean Network of Environmental Funds -RedLAC- (acronym in Spanish), and has served on the RedLAC Executive Committee twice.
María José has been the executive director of the Mesoamerican Reef Fund –MAR Fund- since 2005. It is a regional environmental fund established to support conservation and sustainable use of resources in the Mesoamerican Reef ecoregion, shared by Mexico, Belize, Guatemala and Honduras. She has contributed to the capitalization of its $27 Million endowment fund and to mobilizing over $25 Million for projects in the region.
Ricardo Rabotin Valladares
Focal Point of Honduras
Legal adviser Office of the Secretary of Natural Resources and Environment
---
Ricardo Rabotin was born in Honduras in the capital city of Tegucigalpa, is a lawyer, graduated from the Universidad Tecnológica de Honduras (UTH), with a Master in Business Law from the Universidad Tecnológica Centroamericana (UNITEC). For six years he was a legal-environmental advisor at the Secretaría de Infraestructura y Servicios Públicos (INSEP), and since 2012 he works as a Legal Advisor to the Office of the Ministry of Natural Resources and Environment.
His short-term project is to continue studying notarized and learn another language, to continue serving people who need it. Ricardo Rabotin loves God above all things, he is the father of an 11-year-old boy whom he loves very much, he tries to give him the best education and principles so that he is a good human being who serves society.
Luisa María Fernández Luján
Focal Point of Guatemala
Chief of the Ecosystem Department Ministerio de Ambiente y Recursos Naturales de Guatemala (MARN)
---
She is a Biologist from the University of San Carlos de Guatemala, with a closed master's degree in Marine Coastal Sciences. For 20 years, she served as a teacher at the School of Biology; she currently works at the Ministerio de Ambiente y Recursos Naturales (MARN) as Chief of the Department of Ecosystems, for implementing strategies among other initiatives, and projects, the Policy for the Comprehensive Management of the Coastal Marine Zones of Guatemala. She is an active member of the Technical Committee on Seas and Biodiversity of the Comisión Centroamericana de Ambiente y Desarrollo (CCAD) del Sistema de Integración Centroamericana (SICA). She is Guatemala's technical focal point of the Convention for the Protection and Development of the Marine Environment of the Wider Caribbean Region and its three Protocols; National focal point of several projects such as the regional project Integrated Watershed Management to the Reef of the Mesoamerican Reef Ecoregion, complementing national actions for the sustainable development of the Mesoamerican Biological Corridor in Guatemala.