Update October - December 2020
MAR Fund has continued to operate at its best capacity. Thanks to our responsive Board, staff, partners and especially our donors, who have been flexible enough to allow us to change the way some projects operate, we have been able to address the needs of our grantees in these difficult times.
Some grantees have been able to return to field activities following country restrictions, and some others continue to work from home and through online events and training.
CREDIT: ELISA AREANO
Fishing for the future:
Sustainable Fisheries for a Thriving Reef
MAR Fish project
The MAR Fish project is the largest coordinated network of fish spawning aggregation (FSA) monitoring sites in the Mesoamerican Reef (MAR) region. The overall objective is to promote the recovery of fisheries by strengthening the protection of the FSAs as critical areas in the life cycle of the species, through a better knowledge and understanding of the aggregations in the region.
Some of the advances on this program include a hydrographic survey done in the Cayman Crown reef to provide information to create a bathymetric map of the shallow areas. This will be used to declare this reef as a Particularly Sensitive Area. Fishers in Mexico were trained on how to collect tissue samples in fishing sites and environmental DNA in spawning sites, the results will indicate species present at FSA sites. Also in Mexico, an app was developed to report illegal fishing.
Hydrographic survey in Cayman Crown
In collaboration with FUNDAECO and Guatemalan maritime organizations, Healthy Reef for Healthy People Initiative (HRI) provided information to create bathymetric maps of shallow areas using a multibeam sonar. A technical document by Fundaeco "Hydrographic Survey: Biological importance in the Cayman Crown Ecosystem", reports the presence of new shallow points that will help to declare the reef a PSSA (Particularly Sensitive Sea Area).
A more detailed description of the sites was elaborated as a result of the underwater census and mapping carried out during July 7-12, 2020. The presence of a sport fishing vessel and fishing evidence was found.  And the species with highest abundance were Black Jack, Horse Eye Jack and Schoolmaster Snapper, however,  no spawning behavior was observed.
TIDE in Belize, and FUNDAECO in Guatemala, have been working to protect the Cayman Crown reef.
In Belize:
TIDE is applying for the co-management of the Sapodilla Cayes Marine Reserve, which now includes Cayman Crown.
In Guatemala
The team that will manage the Cayman Crown was hired. It is integrated by a technical sub-coordinator, a control and surveillance technician and a community work technician.
Sentinel Site Observation NETWORK

Purchase and delivery of equipment was completed for the four countries, Mexico, Belize, Honduras and Guatemala. Temperature loggers are pending to deliver to Honduras and Mexico.
Results of the monitoring activities carried out by COBI from December 2019-February 2020:
Punta Allen:
Records from the acoustic sensors detected the presence of four species of grouper (Epinephelus striatus, E. guttatus, M. venenosa, M. bonaci).
Although M. bonaci had the most accumulated records of the 2019-2020 season, E. striatus was the most abundant species found using underwater visual census in Feb. 2017-2020.
In June 2019, large schools of snappers were found but spawning was not confirmed.
Installation of the hydrophone in Punta Allen. Photo: COBI.
Additional activities led by COBI:
DNA sampling
Fishers in Punta Allen were trained to collect environmental DNA (eDNA) and tissue samples from fish in January 2020. Water samples were collected on the FSA site from January to October, 2020, and tissue samples were collected in January and February, 2020. The samples were shipped to a laboratory in Mexico City.
Fishers in Punta Herrero received online training on how to collect genetic material on water and tissue samples in fishing sites and spawning sites. COBI will begin collecting samples in this site and in Xcalak in the coming spawning seasons.
The results from the DNA analysis will help indicate species that are present and cannot be seen during monitoring, and the relation between the different confirmed FSA sites.
Oceanographic monitoring
Data from 2019 and 2020, collected in the temperature sensors  installed in Banco Chinchorro, María Elena, Punta Allen and Punta Herrero, was recovered.
A pressure sensor was also installed in Punta Allen, at the spawning aggregation site to help better understand the current dynamics and potential changes due to climate change.
On July 17, 2020, a webinar was led by CORAL and HRI, to give a presentation to specific organizations working in Honduras on FSA monitoring, technologies including bathymetric mapping and the monitoring protocol.
SOCIAL ACCEPTABILITY AND SUPPORT FOR PROTECTING SPAWNING GROUNDS
Transformación Arte y Educación (TAE) is working on strengthening surveillance capacities of six Fishing Cooperatives of the Kanan Kay Alliance in Mexico. They created an App for electronic devices that was developed for fishers from Quintana Roo to report illegal fishing activities. The complaints are received by the coordinator of the Alliance who submits them to the corresponding authorities.
CREDIT: ELISA AREANO
Climate change
Mesoamerican Reef Rescue Initiative – RRI
The RRI was created to increase the resilience and ability to recover of the MAR and the environmental and cultural services it provides through capacity building, regulations, economic incentives and financial sustainability required for the effective and timely restoration of the coral reefs.
MAR Fund continues working in collaboration with Willis Towers Watson (WTW), The Nature Conservancy (TNC), the CCAD and other partners in the region to design and implement a parametric insurance model for reefs in at least seven sites of the MAR region to contribute to rapid post-event reef restoration and recovery. Emergency response capacities continue to be built on in every country. The Emergency Fund was deployed in October 2020 in response to the affected corals in three reef sites of the Puerto Morelos National Park in Quintana Roo, Mexico, following tropical storm Gamma and hurricane Delta.
With the support of the MAR2R project of CCAD/WWF/GEF, and in coordination with the four countries of the MAR, a Regional Stony Coral Tissue Loss Disease Working Group was created. The Group is the governance platform to promote the creation of capacities and action plans to address this disease in the region.
CREDIT: ELISA AREANO
Belize Marine Fund
The BMF supports projects through two programmatic windows 1) the Targeted Grants Program and 2) the Small Grants Program.
The projects supported by these programs have been guided by those priority areas of focus established in the BMF's Strategic Plan and in consultation with the BMF Steering Committee.
Some advances include the collection of 83 nets (approximately 25,00ft of gillnet) following the new legislation on the ban on the use and possession of gillnets in the marine waters under the jurisdiction of Belize; exploratory dives in Cayman Crown and Gladden Spit and Silk Cayes Marine Reserve looking for fish spawning aggregations; support to fishers' families in the face of COVID-19, and the development of a protocol for the containment of diseases for sea cucumber mariculture project at the University's Calabash Caye Field Station.
General Objective: Supporting scientific data collection at Cayman Crown, improving the knowledge-base of the ecological baseline of the site, while establishing the legal and technical frameworks for management; and raising awareness of its existence and the importance of management presence.
On July 31st, 2020, the Government of Belize signed a Statutory Instrument for the expansion of the Sapodilla Cayes Marine Reserve (SCMR), to protect the Cayman Crown site. Additionally, on October 5th, 2020 TIDE conducted a meeting with representatives of key government agencies and presented its case for attaining co-management of the SCMR.
TIDE procured and retrofitted equipment that will be used to conduct marine resources monitoring at Cayman Crown, and conducted exploratory dives, recording spawning activities at suspected fish spawning aggregation at the site. A total of 19 dives were conducted with 11.7 hours spent diving.
A school of Jacks pictured at Cayman Crown site Sapodilla Cayes Marine Reserve – Photo: TIDE
General Objective: Understanding the resilience potential of targeted Marine Protected Areas in Belize, through a "snapshot" resilience assessment.
Through virtual meetings and workshops, WWF has shared a portfolio of draft strategies and results, for ecosystem-based adaptation; related to its integrated assessments of climate change impacts, risks, and ecosystem services.
Based on the analysis of coastal hazard and habitat role, WWF gained a better understanding of where conservation or restoration investment could be useful in reducing climate risk. WWF has identified some resilience solutions, where mangrove protection and restoration; watershed management; and seagrass protection are being considered among the most popular solutions. With efforts on-the-way to identify spatially, where these options would best be implemented for risk reduction.
General Objective: Enhancing TASA's capacity to provide effective management of the Turneffe Atoll Marine Reserve (TAMR).
TASA commissioned the consultancy for updating the Turneffe Atoll Marine Reserve's (TAMR) Management Plan; and commenced an initiative for the implementation of a new revenue generation mechanism and business plan that will assist in strengthening its financial sustainability.
The organization also secured counterpart funding through the GEF/SGP to continue the TAMR Lobster Fishery Inventory work.
General Objective: Providing a national response in Belize to the debilitating stony coral tissue loss disease (SCTLD).
Treatment for SCTLD is currently being conducted within the Bacalar Chico, Caye Caulker and Hol Chan Marine Reserves, using antibiotic and CoreRx, with proven effectiveness.
SCTLD rescue table and treatment of infection – Photo: HRI
General Objective: Ensuring the successful establishment and payout of a gillnet buyback fund to previously identified licensed gillnet fishers; contributing to the government of Belize's commitment for a gillnet ban by 2022.
On November 5th, 2020 the Government of Belize legislated a gillnet ban, via Statutory Instrument No. 158 of 2020. This legislation constitutes a ban on the use and possession of gillnets in the marine waters and covers all the seas under the jurisdiction of Belize.
Oceana has collected nets, tags and licenses from all gillnet fishers, totalling approximately 83 nets, approximately 25,000ft of gillnet. Additionally, all beneficiaries of the buy-back program have been receiving payment.
In collaboration with the Coalition for Sustainable Fisheries, Oceana continues to ensure that fishers in the transition program are benefitting from available training opportunities.
Emerson Galvez of Dangriga town hands over three gillnets as part of the gillnet license buyback and transition program – Photo: Oceana
General Objective: Building on BAS' existing environmental education and community outreach program activities specifically the youth focused Reef Protector Program (RPP).
The following activities were implemented as part of BAS Reef Protectors Program:
In December 2020, BAS commissioned the consultancy for the development of its Reef Protectors Program Manual, which should be finalized in April 2021.
Participants of BAS' Reef Protectors Program – Photo: BAS
General Objective: Detecting the recovery of depleted populations of marine megafauna at the Turneffe Atoll Marine Reserve, using long-term standardized monitoring methods.
MarAlliance provided emergency support to nine fishermen and their families (6 from Northern and 3 from southern Belize) in the face of COVID-19. These are fishers that have partnered with the organization over a number of years to conduct field activities.
General Objective: Developing and piloting protocols for a successful approach to lionfish control in Turneffe Atoll Marine Reserve (TAMR) that can be replicated across Belize's MPAs system.
In the face of COVID-19, Blue Ventures has adapted its work and successfully carried out non-fieldwork related activities. Utilizing recommendations and the outcome of discussions had at its virtual Lionfish Working Group sessions, Blue Ventures is currently working on the development of a White Paper to address barriers to lionfish control within fish replenishment zones across Belize's MPA system.
TASA Team Participating in Virtual Training – Photo: TASA
General Objective: Maintaining connectivity across Belize's fish spawning aggregation sites by supporting monitoring and surveillance at one multi-species fish spawning aggregation site, the Gladden Spit and Silk Cayes Marine Reserve (GSSCMR).
SEA commenced data collection for spawning aggregation at GSSCMR on October 27, 2020. By the end of 2020 SEA had conducted four rounds of data collection, observing a visual increase in spawning behaviour of Nassau Grouper and an increase in counts of this and snapper species as compared to a similar period over the past 5 years.
57 surveillance patrols within the FSA at GSSCMR were conducted by SEA's enforcement team with the Belize Coast Guard.
A total of 13 observations or encounters (five sailboat and eight skiffs) were made with commercial fishers (33 from Managed Access Area 3) during the surveillance. No arrests followed.
A meeting to discuss the management of the FSA is being planned together with the Fisheries Department and other key partners—including special license fishers. This meeting was initially planned for August 2020 but rescheduled to December 2020 owing to COVID-19.
General Objective: To help secure the fish stocks of the Mesoamerican Reef (MAR) region through the protection and management of fish replenishment zones located along the MAR.
ased on the outcome of a rapid training needs assessment between October and November 2020, TIDE conducted various levels of dive training for key members of its science team conducting work at Port Honduras Marine Reserve and Sapodilla Cayes Marine Reserve (particularly Cayman Crown). The training included PADI open water, advanced open water, rescue and divemaster training courses. Additionally, all members of TIDE's science team participated in a training on Emergency First Response (EFR).
Finally, the organization also completed the procurement of additional dive equipment to be used by members of its science team at the Cayman Crown site.
General Objective: Artificially spawning adult Holothuria mexicana sea cucumbers and rearing the resulting larvae & juvenile ex-situ for release into the wild using low-cost techniques that can easily be replicated.
In December 2020, UB-ERI developed a protocol for the containment of diseases for the sea cucumber mariculture project at the University's Calabash Caye Field Station. According to UB-ERI, sea cucumber mariculture is new to Belize and the region, and information on disease and parasites affecting sea cucumber species are limited. Therefore, the protocol is designed to contain any potential parasites or disease that could result from the sea cucumber (Holothuria mexicana) mariculture experiments—potentially securing investments and increasing survival rates of larvae and juveniles.
CREDIT: ELISA AREANO
MAR Fund Small Grants Program
Request For Proposals
11th Joint Request for Proposals (2018)
Supporting and Strengthening the Management of Coastal and Marine Protected Areas in the Mesoamerican Reef
Nine projects were supported under the eleventh request for proposals. Final results of five of those projects were presented in the previous update. Three more projects have finalized activities during this period and some important results are presented below. One more project is soon to end, its progress to date is also presented, as indicated below. Additional information can be found in the webpage.
Grantee:  Fundación Islas de la Bahía (FIB). Honduras.
Progress to date:
Three of the 16 eco-leaders, jointly with FIB, are implementing relevant activities related to the protection and conservation of the Black Iguana.
A complete kit of painting material (canvas, paint, brushes, among others) was delivered to six artisan women.
Supporting the needs of the community due to COVID-19, 12 bags of provisions were purchased and distributed to nine eco-leaders and their families.
Eco-leaders working at the Iguana station. Photo: FIB
Grantee:  Amigos de Sian Ka'an A.C. (ASK). Mexico.
Final results:
Approach and diagnosis questionnaires for good practices, tourism and biosecurity were applied to 8 out of the 11 permit holders. Of the 8 permit holders applying the action plan, 5 effectively comply with the implementation of "Good Sustainable Practices for Aquatic Activities".
Six information visits were made in the premises of the 11 permit holders for the verification of the implementation of the biosecurity measures. The biosafety criteria were verified in a virtual meeting with 6 permit holders, who demonstrated that they have complied with the implementation of good practices.
One of the trained permit holders, Caracola Tours, in Mahahual. Photo: ASK
Grantee: Casa Wayuú, Centro de Aprendizaje para la Conservación del Medio Ambiente, A.C. Mexico.
Final results:
A mangrove extension of 7,265.3 ha was recorded for the Yum Balam Flora and Fauna protected area (YBFFPA). An area of 7,215.85 ha was in a conserved condition, while 390 ha were degraded areas.
A financial mechanism for the carbon market that includes 55 stakeholders was designed and proved feasible: the monetary benefits derived from the sale of blue carbon can provide economic incentives that favours the protection and restoration of coastal ecosystems. The market will be based on private and / or ejidal lands within protected natural areas, with a distribution of benefits oriented to the communities.
The Yum Balam coastal ecosystem. Photo: CASA WAYÚU
Grantee:  Programa Mexicano del Carbono, A.C. (PMC). Mexico.
Final results:
 For Isla Cozumel a mangrove extension of 3,011.3 ha was recorded with 44.7% of the total conserved.
 For Isla Cozumel the carbon market intervention will be based on private owners.
The Project Idea Note (PIN), for the Taab Ché carbon project, was accepted by the Plan Vivo Foundation.
Field visit of the mangroves in Cozumel. Photo: PMC
12th Joint Request for Proposals (2019)
Supporting Coastal and Marine Resources Management and Protection in the Mesoamerican Reef (MAR)
The twelfth request for proposals is currently under development. Eight out of nine projects show recent progress and are presented below. Additional information can be found in the webpage.
Grantee:  Fundación para el Ecodesarollo y la Conservación (FUNDAECO). Guatemala
Progress to date:
A data survey was carried out on the condition and health of the mangrove ecosystem at the Estero Lagarto site located in the Punta de Manabique Wildlife Refuge, due to the connectivity function that complies with the Cayman Crown reef system. The results indicate that the dominant species (70%) is Rhizophora mangle, however, the condition of the forest is in a delicate state due to the presence of the bacteria Agrobacterium sp.
An environmental education plan was developed for the coastal zone of the Guatemalan Caribbean, this tool will facilitate the work of primary and secondary teachers and propose lines of action for the protection of natural resources.
To respond and support partner communities affected by the COVID-19 pandemic, FUNDAECO supported  a total of 100 families with food and sanitary supplies.
Field survey on the condition and health status of the mangrove ecosystem at the Estero Lagarto site. Photo: FUNDAECO
Grantee:  Fundación Mundo Azul (FUMNZ) & Healthy Reefs for Healthy People Initiative (HRI) & Pixan'Ja.
Progress to date:
The team participated in workshops and meetings presenting information of the Cayman Crown characterization, including the National Coastal Marine Congress and collaborated with the General Direction office of Maritime Affairs of the Ministry of Defense (DIGEMAR) and FUNDAECO. An interview for an article in a national magazine was also developed with Dr. Fabrio Cresto, scientific collaborator for climate change parameters analysis.
A webinar on the new stony coral tissue loss disease (SCTLD) affecting corals in the Caribbean was organized and hosted by HRI and Pixan'Ja on November 19th, 2020, with the participation of Emma Doyle from MPAConnect and Melina Soto from HRI-Mexico.

90 people participated at the event

.
Webinar on SCTLD. Photo: HRI
Grantee: Fundación Defensores de la Naturaleza (FDN). Guatemala.
Progress to date:
The project was socialized with the Board of Directors of the group of young people called "Local and Environmental Management Committee" which will be directly involved in this project. The joint work plan for the year 2021 was defined.
A preliminary field survey took place in the wetland areas of the Bocas del Polochic Wildlife Refuge to define the sites of highest incidence of solid waste. The solid waste found was collected and will be used as a starting point for the solid waste management diagnosis that will follow.
Collecting solid waste during the preliminary field survey. Photo: FDN
Grantee: Roatan Marine Park (RMP). Honduras.
Progress to date:
Between September and November 2020, RMP conducted four presentations on fish spawning aggregations (FSA), the importance of their conservation and the species that aggregate in the country. Thirty-six people participated (13 female and 23 male). Two of the presentations were held with fisher's associations and community members of Punta Gorda and Santa Helena in the municipality of Santos Guardiola, while one was with OPROMEP, the Artisan Association from Punta Gorda, in which many fisher wives are part of. Finally, an online webinar on FSA was addressed to the general public, in partnership with Comunidad y Biodiversidad (COBI) from Mexico. They shared their experience working alongside fishing communities to monitor FSA.
On September 29, RMP hosted another meeting inviting COBI to share information with the RMP Marine Park Rangers. COBI shared with the six participants, information about the importance of FSA for fish population in the MAR region and their work alongside communities in the monitoring and protections of these sites.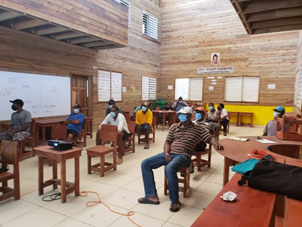 Presentation on FSA with the fisher's association of Santa Helena. Photo: RMP
Grantee: Bay Islands Conservation Association-Roatan (BICA-Roatan). Honduras.
Progress to date:
Through a socioeconomic survey, a total of 202 people were interviewed in Utila (118), Roatan (52) and Guanaja (32). As a result, three possible FSA sites were identified in Roatan and four in Guanaja.
In December 2020, Coral Reef Alliance trained BICA staff and community scientists (9 people in total) on fish landing monitoring for FSA.
Training on fish landing monitoring for FSA. Photo: BICA

Grantee: Bay Island Conservation Association-Roatan (BICA-Roatan). Honduras.
Progress to date:
24 children from the Lunsford Johnson school and 567 members of the Pensacola community have been sensitized on water and sanitation.
During the project, biosafety kits to prevent COVID-19 (masks, bacterial gel, gloves, etc.) were provided to 380 members of the community.
10 septic tanks were cleaned in the Pensacola community to reduce the wastewater that contributes to marine pollution.
In agreement with Marshall Rivers, the person in charge of the drinking water system and with the support of Ing. Sussy Ochoa from Polo's Water Association, a new design for the Pensacola community drinking water system has been accomplished.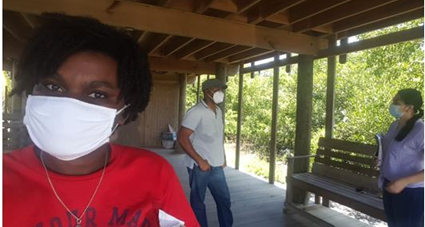 Meeting with Marshall Rivers and Ing. Sussy Ochoa for the new design for the water system. Photo: BICA.
Grantee:  POLO´s Water Association (POLO's). Honduras.
Progress to date:
Improvements in the lifting stations and in the water treatment plant were accomplished, showing a reduced concentration of fecal coliforms in the plant and effluent.
A baseline of water quality parameters was obtained in the treatment plant of West End, showing a low availability of oxygen in the tanks.
The new solar system installed in the treatment plant has a total of 23.87 KW of power and, together with the previous one installed in 2018, the plant has achieved a total photovoltaic system of 35.67 Kw. This allows a monthly saving of US$ 1,325 (60% higher).
View from above of the Polo's water treatment plant. Photo: POLO's
Grantee: Transformación, Arte y Educación, A.C. (TAE). Mexico.
Progress to date:
The phone application "Denuncia Pesquera" ("Fishing complaint") was developed; it is available for Apple and Android systems. It was launched to the public and will be used by fishers to denounce and inform illegal activities related to fishing.
Informative/educative videos were prepared and widely shared to fishers for the use of the app, how to behave while observing illegal activities in the field and other information related to surveillance and safety.
Launch of the app Denuncia Pesquera. Photo: TAE
Images developed to guide users. Photo: TAE
13th Joint Request for Proposals (2020)
Supporting Coastal and Marine Resources Management and Protection in the Mesoamerican Reef (MAR)
On August 10, 2020, the French Global Environment Facility (FFEM), the Government of Germany through KfW, the Paul M. Angell Family Foundation, and the Mesoamerican Reef Fund (MAR Fund) were pleased to announce the 13th joint request for proposals (RfP).
With the overall objective to contribute to the conservation of the ecosystem functions of the Mesoamerican Reef System, the three specific objectives of the traditional window for this RfP were:
To support actions to strengthen the resilience of NGOs, protected areas and coastal communities.
To support and strengthen efforts for waste water and solid waste management.
To support activities related to effective conservation and monitoring of fish spawning aggregations sites in the region.
The deadline to submit proposals was October 6, 2020. 28 complete proposals were received, distributed as follows: one from Belize, eight from Guatemala, ten from Honduras and nine from Mexico.
The Grants and Evaluation Committee meeting will be virtually held on January 15, 2021 to recommend the proposals to approve. The total amount for projects in this RfP was US$ 223,179.
CREDIT: ELISA AREANO
Re-Granting in the Mesoamerican Reef
Oak Foundation has been an important partner and funder in the MAR for over 15 years. To consolidate and provide continuity to the achievements, Oak Foundation gave to MAR Fund a provision of sinking funds to on-going activities for a period of two to four years.
During this period, the last three grantees completed the implementation of their projects.
Healthy Reefs for Healthy People Initiative (HRI) with the project: Healthy reefs for healthy people initiative, strengthening the scientific foundation.
Sarteneja Alliance for Conservation and Development (SACD) with the project: Strengthening SACD management and institutional capacity for long term sustainability.
Southern Environmental Association (SEA) with the project: Improving the financial stability of the Southern Environmental Association.
HRI and SEA are developing their final reports to submit; results will be shared in our next update.
Grantee: Sarteneja Alliance for Conservation and Development (SACD)
Progress to date:
The Development Officer hired under this project developed four proposals that were submitted, two of them have been approved, one declined and one is under review. The funds secured will allow SACD to continue with their programs.
As part of the development process of SACD Sustainable Fishery Plan, a monitoring framework for commercial species was developed and it will be implemented in 2021.
Using the information generated through the bird nesting colonies surveys in Cayo Falso and Wildtracks mangrove cayes, SACD has joined efforts with Hol Chan Marine Reserve to seek government assistance to establish these sites as bird sanctuaries.
Bird survey and water quality monitoring at Corozal Bay Wildlife Sanctuary (CBWS). Photo: SACD
Bird survey and water quality monitoring at Corozal Bay Wildlife Sanctuary (CBWS). Photo: SACD
CREDIT: ELISA AREANO
Effective Communications
MAR Fund followers continue to increase in social media networks. As of December 31, 2020 there are 3,857 followers on Facebook; 1,645 on Instagram; and 1,064 on Twitter.
Contact us if you need additional information